ABOUT US
Since 1979, the Pan American School of Natural Medicine [formerly American School of Oriental and Homeopathic Therapy, Florida] has excelled at providing education to students around the world to thousands of practitioners. Our extensive and comprehensive list of courses are dedicated to teaching natural sciences, vitalistic therapeutics, medical and clinical sciences and is the largest selection of online courses in the world, available in any google language translation.

We are a post-graduate institution, dedicated to practitioners of all disciplines, seeking to learn about the natural medicines and sciences directed towards healing. We invite practitioners to enroll in our courses under three formats:
1. Practitioners may audit any of our courses open to online participation. All courses are designed to be all inclusive containing both written Lessons, supplemental text links; and accompanying audio/visual materials. All courses are designed to be the most up to date and comprehensive educational materials. All quiz completions are online, graded automatically in real time, and results instantaneously returned to user. When all quizzes are successfully completed, the user is issued a CERTIFICATE OF COMPLETION, suitable for framing.

2. Online practitioners may opt for any of our Diploma programs. These consist of a block of Courses in a particular topic area listed on this page link. Once student successfully completes all courses, student submits a request to the Registrar for issuance of formal Diploma, signed and sealed, and sent by post from the Nevis campus office.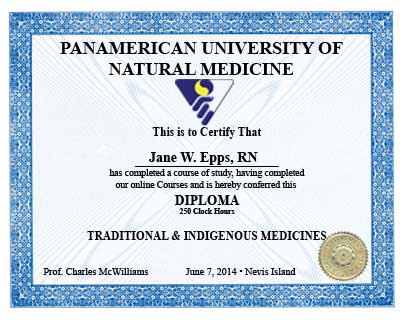 3. Practitioners may opt to join the Sacred Medical Order for a Doctorate program. These programs generally have residency requirements, dissertation or thesis (PhD), and final examinations. More details may be found at this link.

For more details and queries, you may submit on this link.