Degree Programs
Degree Programs
PanAm is a post-graduate institution. Applicants should have previous studies in the Health Sciences.

1. Courses for Audit: These courses are open for audit and completed entirely online. Upon study and successful completion of the Quizzes, an individual CERTIFICATE OF COMPLETION is generated for download. The certificate includes clock hours of completion and can be used for continuing education.


2. Diploma Programs. These are selected course completion blocks in a specified area of online study, e.g. Herbalist Studies, Electrotherapy, Nutrition/Dietetics Studies, etc. These designated block courses are completed entirely online as well. Courses are successfully completed within the specified course outline required for graduation, upon finishing all courses within the Course Block, candidate is issued a final Diploma from the Registrar's office. Students study at their own pace and are allocated one year for successful completion.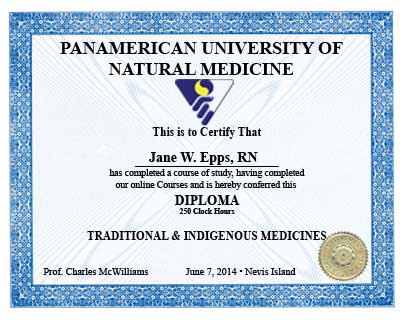 Preliminary Online Application (link)

3. Degree (Post-Graduate) Programs: Degree programs generally required residency internship.

Online courses are completed within the specified course outline required for graduation as specified by the program. Applicant must be eligible and approved by the Dean. Our Mission is to inspire and equip doctors, practitioners, and missionaries to become superior health care professionals through vocation (their call to God), academic enrichment, leadership development, civic engagement and cross cultural/humanitarian appreciation. Person's interest may start with the Application (link)